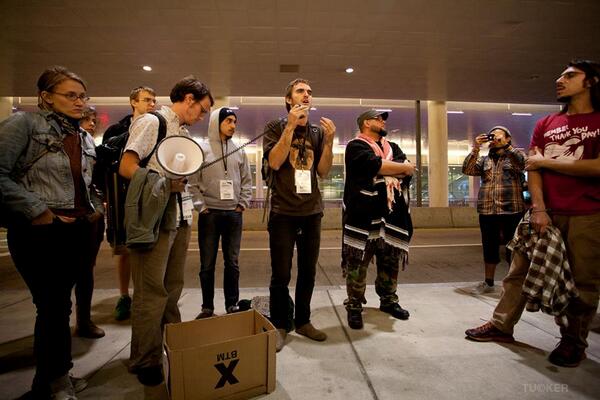 Connecting with activists. Supporting alternative energy. Deriding of the fossil fuel lobby. A huge march. That is what PowerShift, from October 18th to October 21st, purports to be. I went to this environmental conference of the youth in the halls of a convention center in the heart of Pittsburgh, to find out if they were right.
The opening plenary surprised and shocked me in what was said. The uniformity was extraordinary. No speaker directly challenged Obama, and if they mentioned him it was with an almost weak tone. Still, the young indigenous activist Ta'kaiya Blaney spoke about the destruction of her tribe's tradition by pollution from big oil companies and the corrupted nature of the Harper government in Canada. Reverend Dirley said that this is "our moment" but only offered reformism as a solution. Filmmaker and activist Josh Fox told the participants that we should push Obama to stop fracking while forgetting to note that Obama has increased fracking in his presidency tremendously. Two college students pitched a MoveOn contest to participants, another sign of co-option from a Democratic Party angle  going on. Only one speaker mentioned capitalism, and that was Yudith Nieto. She said that such
subjects and others we shy away from or talk about rarely should be challenged. The final speaker that night was Philip Agnew, the Executive Director of the Dream Defenders, who talked about his rising consciousness, and that everyone has a divine spark to begin personal realization. At the same time, there were three videos projected into the minds of the participants: one by the US Steelworkers which promoted the corrupted Blue-Green Alliance, another which criticized palm oil production destroying homes of orangutan but didn't mention the other effects on animals and people in Indonesia, and a final one promoting something called reel-power 2.
From here, it is important to discuss the panels and sessions as well. The first I attended was about how the climate crisis and capitalism were interconnected. Despite the criticism from fellow PowerShifters from my school that no solutions were presented, the different dimensions of capitalism were described and solutions were offered. These included: a two-part alternative vision that involved self-reliance and  education to counter the propaganda; a decentralized community model with worker cooperatives and a just transition; looking at what countries have started successfully "stepping down capitalism;" and a cooperative model. Most importantly, the panelists said we needed to globalize resistance and have communities choose the right of tactics for them. The next panel I went to was on the school-to-prison pipeline. Panelists talked about how schools are becoming like prisons, restrictive measures imposed on students; and the deeper intersectionality with other issues. This panelists said there are solutions such as countering the zero tolerance policies, and getting community support in certain fights. The last place I went to a movie called Blood on the Mountain, about mountaintop removal. The movie has a liberal edge to it, but it still made good points about the horrible situation in southern West Virginia.
The next day, I only went to two sessions each which had a deeper importance. One was about the influence and power the Koch Brothers have on the educational sphere, climate denial, etc… through their money machine. A researcher from IFG said that they calculated that $100 billion will be gained by the Kochs if the pipeline is built. While this is important, the funding and interest of Warren Buffet against the pipeline was not mentioned. Then, there was a session about campus voting. While less people went to this session, there was a good discussion about impediments put up to stop students from voting even though the panelists were clearly liberals. Someone even floated the idea of universal voter registration from when you are born until when you die, which seemed like an interesting idea. Finally there was a state breakout for Maryland, where my group talked about a liquefied natural gas (LNG) plant proposed in Cove Point in Southern Maryland, and how to stop it.
As my time at the conference came to close there was a final plenary, all focused on Keystone XL. I already knew this was a bad sign, as I had written on White Rose Reader why people should think beyond Keystone XL. Like the one I went to on Friday it was easy to see who founded this conference:
350.org, NRDC, the Sierra Club, the Rainforest Action Network (RAN), Environment America, MoveOn.org, Greenpeace, the Rockefeller Brothers Fund, the Keneda Fund, the Chorus Foundation, the Overbrook Foundation, and the Sherman Foundation, Student PIRGs, Sierra Student Coalition, and the Chesapeake Climate Action Network (CCAN). This funding was what I feared when I signed up for the conference back in August, and it utterly disgusted me.
The first speaker was the president of the Energy Action Coalition, Mara Cowley. While she said that there should be a focus on environmental justice, that there should be a focus on environmental justice, and that 100% "clean energy" is doable, she still implied that she was (among others) fulfilling Obama's words at the last PowerShift. More importantly, she said that that stopping the Keystone XL pipeline is only one fight. Then, there were a line of speakers with pro-Obama rhetoric including Bill McKibben, Ismael Bucknen, Rev. Lennox Yearwood, Mike Brune, and more. This is deeply distressing because Obama has increased domestic oil & gas drilling exponentially to achieve "energy independence," as he boasts about in his speeches about energy. Specifically, Mike Brune and Ishmael Bucknen said that we need to "support the President." No one in general took an anti-Obama stand but a member of the Crew Nation, Crystal Lameman said that governments should not play "environmental roulette" and that industry and government do not have the truth. Even Kendell Mackey who showed the ridiculously idiotic time capsules said that Keystone XL pipeline was not the only fight and that direct action is important. Interestingly, Bill McKibben said the same about the Keystone fight, even going as far to acknowledge the southern half of the pipeline was already being built but not saying that Obama approved this pipeline. At one point, McKibben said that the movement is "more than a collection of Washington-based organizations" and later said (I'll paraphrase): our movement is not based around big groups and charismatic individuals. This is ironic because McKibben himself is a charismatic individual.
Around this time, all hell began to break loose. One person yelled correctly that the pipeline was already partially approved, which was barely (if at all) acknowledged by McKibben. The, Rev. Yearwood, who was kinda the MC for the rest of the speakers, starting chanting and one group wasn't so sure. I wasn't sure either. They were shaking their heads. When Ishmael Bucknen began speaking, a 'mic check' began as people stood on their chairs. As I later learned after reading the twitter feed of the Tar Sands Blockade, this was because a Lakota working for the Energy Action Coalition was not paid the money to come to PowerShift. (1) Activists connected this to colonialism, racism, and capitalism, and likely the fact that Nieto, an indigenous activist was cut off "accidentally" during the Friday plenary. Despite the seemingly strange timing,(2) Bucknen deserved to be interrupted because afterwards he just spewed a bunch of pro-Obama rhetoric, why Obama is the greatest, etc… The activists were hauled out in what what seemed to a controlled area for speech. Most importantly, I learned how liberal my group of fellow activists are, with some saying the protesters should shut up, and are being rude. This is clearly a continuation of what happened during a SEAC meeting when I was shortchanged in time for my subject. (3) Thinking back, I am reminded of that great song by Melvina Reynolds titled 'It Isn't Nice,' speaking to how certain actions may be rude or 'not nice' but they need to be done. Rev. Yearwood, when he later spoke, said he "appreciated" the protesters making a point but then moved on, speaking on other issues like a possible segregated movement. Then, there was a looking-like-a-privileged-white-guy Mike Brune, the President of the Sierra Club. The speech he made sounded like it could have come right out of Obama's mouth because the rhetoric was so similar. Later that night, one of my friends would tell me that due to the privilege of the Sierra Club and their twisted version of the environment means they should be abolished with anyone rushing over to join Rising Tide North America instead. Finally, Yearwood asked participants to hug each other and declared that "Powershift is a lifestyle."
I recently talked with my dad who told me that people like Al Gore and Bill McKibben are almost celebrites in the environmental movement, which activists that participated in the mic-check made fun of by acting like they were bowing, and that big organizations have a lot of power in their hierarchies. I told him that there seemed to be a disconnect from the big organizations running/backing the conference and the participants which was shown in part by the mic-check. Despite this tension, I enjoyed PowerShift, I just hope that it would be less expensive for registration, as it seemed that everyone that came there has some level of privilege, which seems deeply problematic.
Notes:
(1) http://interestingblogger.wordpress.com/2013/10/27/background-of-the-powershift-mic-check/
(2) https://twitter.com/burkelyh/status/392075300894302208
(3) http://readersupportednews.org/pm-section/78-78/19745-how-my-schools-radical-environmental-group-screwed-me-over